There's plenty to do in Hershey, Pennsylvania with attractions ranging from Hersheypark and Hershey's Chocolate World for family fun, to the Hershey Gardens and Hershey Theatre for more cultural experiences. Visitors can enjoy thrilling rides and entertainment at Hersheypark or indulge in chocolate-themed activities at Hershey's Chocolate World.
The Hershey Gardens offer a serene setting with beautiful flowers and sculptures, while the Hershey Theatre showcases a variety of performances throughout the year. In addition, visitors can also explore the Hershey Story Museum for a glimpse into the history of Milton S.
Hershey and his chocolate empire. With its mix of amusement, culture, and chocolate, Hershey, Pennsylvania offers something for everyone.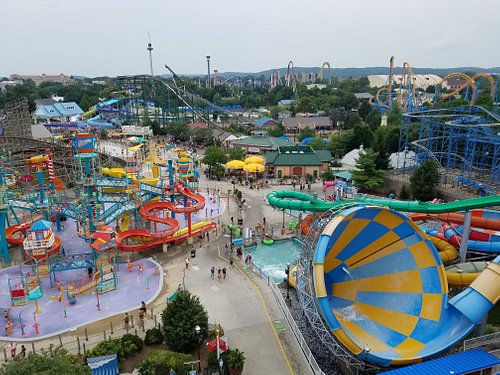 Credit: www.tripadvisor.com
Sweet Beginnings At Hershey's Chocolate World
Hershey, Pennsylvania offers a range of fun activities and attractions, making it an ideal destination for chocolate lovers and families alike. One must-visit attraction is Hershey's Chocolate World, where you can experience Sweet Beginnings. Enjoy a Free Chocolate Tour, where you'll learn about the chocolate-making process and get to sample some delicious treats along the way. Want to get hands-on? Create Your Own Candy Bar allows you to design your own personalized chocolate bar, from selecting the toppings to designing the wrapper. For those looking for a more immersive experience, Hershey's Unwrapped: A Chocolate Tasting Experience is a must-do. Indulge in a guided chocolate tasting and explore the flavors and nuances of different varieties.
Thrills At Hersheypark
In Hershey, Pennsylvania, there's no shortage of thrills and excitement at Hersheypark. With a wide variety of roller coasters and rides, there's something for all ages to enjoy. From the heart-pounding drops of the Fahrenheit and the lightning-fast turns of the Storm Runner, to the more family-friendly attractions like the Cocoa Cruiser and the Ferris Wheel, there's no shortage of adrenaline-pumping fun to be had.
For those looking to cool off and have some water fun, Hersheypark's Boardwalk is the place to be. With water slides, lazy rivers, and wave pools, there's plenty of refreshing summer excitement for everyone.
If you're in the mood for some animal encounters, take a walk on the wild side at ZooAmerica. This 11-acre zoo is home to over 200 animals from across North America, including bears, wolves, otters, and more. It's a great opportunity to learn about and appreciate the incredible diversity of wildlife in our own backyard.
Historical Hershey
In Hershey, Pennsylvania, there is a rich history waiting to be explored. One of the must-visit attractions is the Hershey Story Museum, where visitors can embark on a captivating journey through the history of the Milton Hershey School, the chocolate empire, and the town itself. The museum offers interactive exhibits, artifacts, and even chocolate tastings to engage visitors of all ages.
A visit to Hershey Gardens is also highly recommended, especially for nature lovers. The beautiful botanical gardens boast countless blooming flowers and captivating butterflies fluttering around. It's a tranquil and stunning place to wander and enjoy the many themed gardens, including a Japanese Garden and a Children's Garden.
If you are interested in exploring the town's history in a unique way, the Hershey Trolley Works offers an entertaining and informative town tour. Hop on a vintage-style trolley and embark on a narrated journey through the streets of Hershey, learning about the town's founder, Milton Hershey, and his vision for creating a model community.
Entertainment And Events
Looking for entertainment and events in Hershey, Pennsylvania? Look no further than the Giant Center, a premier venue for concerts and shows. With a capacity of over 10,000 seats, the Giant Center has hosted top artists and performers from various genres, ensuring there is something for everyone. Experience the magic of live music or immerse yourself in captivating productions at the Hershey Theatre, which showcases a wide range of performing arts and film screenings. In addition to these year-round attractions, Hershey is well-known for its seasonal festivities. From the enchanting Hersheypark Christmas Candylane to the thrilling Hersheypark In The Dark during Halloween, there are plenty of events to keep you entertained throughout the year. Plan your visit to Hershey, Pennsylvania, and indulge in the entertainment options and lively atmosphere the city has to offer.
Hershey's Culinary Delights
When visiting Hershey, Pennsylvania, there are plenty of things to do and explore. In terms of culinary delights, the city offers a range of options to satisfy every taste bud. At Hersheypark, visitors can indulge in a unique dining experience with themed eateries that add to the fun and atmosphere of the amusement park. For those seeking a gourmet experience, Devon Seafood + Steak is a must-visit. This upscale restaurant offers a variety of seafood and steak dishes prepared with precision and served in an elegant setting.
For beer enthusiasts, Troegs Independent Brewing provides a taste of local brews. This brewery offers an array of craft beers, from hoppy IPAs to rich stouts, all brewed on-site. Visitors can take a tour of the brewery to learn about the brewing process and sample a variety of unique flavors. Whether you're looking for a delicious meal or a distinctive beer, Hershey, Pennsylvania has something for every palate.
Relaxing In Hershey
Hershey, Pennsylvania offers a range of activities for visitors looking to relax and unwind. One notable option is The Spa At The Hotel Hershey, which provides a truly indulgent experience. Guests can enjoy a variety of spa treatments and massages, all infused with the essence of chocolate. From chocolate facials to cocoa bean polish, these treatments offer a unique and rejuvenating experience.
For those seeking cozy accommodations, Hershey Lodge is the perfect choice. With its warm and inviting atmosphere, this lodge provides a comfortable stay for guests. The spacious rooms and friendly staff ensure a relaxing getaway, and the lodge's amenities, including indoor and outdoor pools, add to the overall experience. Whether enjoying a dip in the pool or simply unwinding in the comfortable rooms, Hershey Lodge offers a cozy retreat.
In addition to spa treatments and comfortable accommodations, Hershey is also known for its outlet shopping. Visitors can explore a variety of stores and find great deals on a range of items. Whether it's clothing, accessories, or home goods, the outlet shopping experience in Hershey offers something for everyone. With a multitude of stores to choose from, visitors can spend a leisurely day browsing for finds and taking advantage of great discounts.
Outdoor Adventures
Looking for outdoor adventures in Hershey, Pennsylvania? Look no further! Hershey Gardens offers a serene escape amidst a beautiful flower collection. Hershey Gardens are the perfect place to relax and rejuvenate, surrounded by colorful blooms and lush greenery.
If you're craving excitement beyond chocolate, Hershey has adventure sports to offer. From ziplining to off-road segway tours, there's something for every thrill-seeker. Get your heart racing with an adrenaline-pumping experience like no other.
For those who prefer a more leisurely outdoor activity, the Hershey Golf Collection offers pristine courses and picturesque views. Tee off and enjoy a game of golf in the town famous for its sweet treats.
| Hershey Gardens: Serenity Amongst Flowers | Adventure Sports in Hershey: Fun Beyond Chocolate | Hershey Golf Collection: Tee Time in Town |
| --- | --- | --- |
| Hershey Gardens offers a serene escape amidst a beautiful flower collection. | Experience thrilling adventure sports, from ziplining to off-road segway tours. | Tee off and enjoy a game of golf in the town famous for its sweet treats. |
Family Fun Beyond The Park
Looking for family-friendly activities in Hershey, Pennsylvania? Beyond the park, there are plenty of options to keep everyone entertained. At Chocolate World, indulge in the 4D Chocolate Movie experience, where you can immerse yourselves in the sights, sounds, and smells of chocolate. The kids will love meeting Hershey's Characters such as Reese's, Kit Kat, and Twizzlers, who make appearances throughout the day.
For some excitement and challenge, try the Escape Room Hershey. This interactive adventure game will test your problem-solving skills and teamwork as you work against the clock to solve puzzles, uncover clues, and unravel the mystery. It's a thrilling experience that will leave you wanting more.
With so much to do in Hershey, Pennsylvania, you'll never run out of fun activities for the whole family to enjoy!
Frequently Asked Questions For What Is There To Do In Hershey Pennsylvania
Q: What Attractions Are There In Hershey Pennsylvania?
A: Hershey Pennsylvania offers a variety of attractions, including Hersheypark, Chocolate World, Hershey Gardens, and the Hershey Story Museum. Visitors can enjoy thrilling rides, indulge in chocolate-themed experiences, explore beautiful gardens, and learn about the town's history and legacy.
Q: Are There Any Outdoor Activities In Hershey Pennsylvania?
A: Yes, Hershey Pennsylvania provides plenty of outdoor activities. You can hike or bike along the trails of Hershey Gardens or take a stroll in the picturesque Hershey Park. Additionally, nearby Hershey Derry Township Historical Society offers opportunities for guided walking tours to explore the town's historic sites.
Q: Are There Any Family-friendly Activities In Hershey Pennsylvania?
A: Absolutely! Hershey Pennsylvania is known for its family-friendly activities. Visit Hersheypark, where you'll find rides and entertainment suitable for all ages. Explore the Hershey's Chocolate World, offering chocolate-making experiences and interactive exhibits. Don't miss out on the Hershey Story Museum, which offers educational opportunities for the entire family.
Q: Where Can I Indulge In Delicious Chocolate Treats In Hershey Pennsylvania?
A: In Hershey Pennsylvania, you can satisfy your sweet tooth at various locations. Visit Hersheypark or Hershey's Chocolate World for mouthwatering chocolate treats, or head to The Hershey Pantry for delectable homemade sweets. For unique chocolate creations, don't forget to explore the many specialty shops located throughout the town.
Conclusion
With its rich history, delicious chocolate offerings, and range of exciting attractions, Hershey, Pennsylvania is a must-visit destination for travelers of all ages. Whether you are exploring the fascinating story of Milton Hershey at the Hershey Story Museum, indulging your sweet tooth at Hersheypark, or enjoying the beautiful nature trails, there is no shortage of things to do in this charming town.
So pack your bags, make memories, and satisfy your love for chocolate in Hershey, Pennsylvania.