Germany has a number of beautiful cities including berlin, munich, and frankfurt. The country's rich history, stunning architecture, and vibrant culture make it a popular travel destination.
From berlin's trendy neighborhoods and historic landmarks to munich's beer gardens and stunning art museums, there's something for everyone in germany's cities. Frankfurt's modern skyline and historic old town are also a must-visit for anyone traveling to the country. Germany's cities are also known for their delicious cuisine, with everything from traditional bratwurst and sauerkraut to modern, innovative dishes on offer.
Whether you're interested in history, art, culture, or food, germany's cities are sure to provide a memorable travel experience.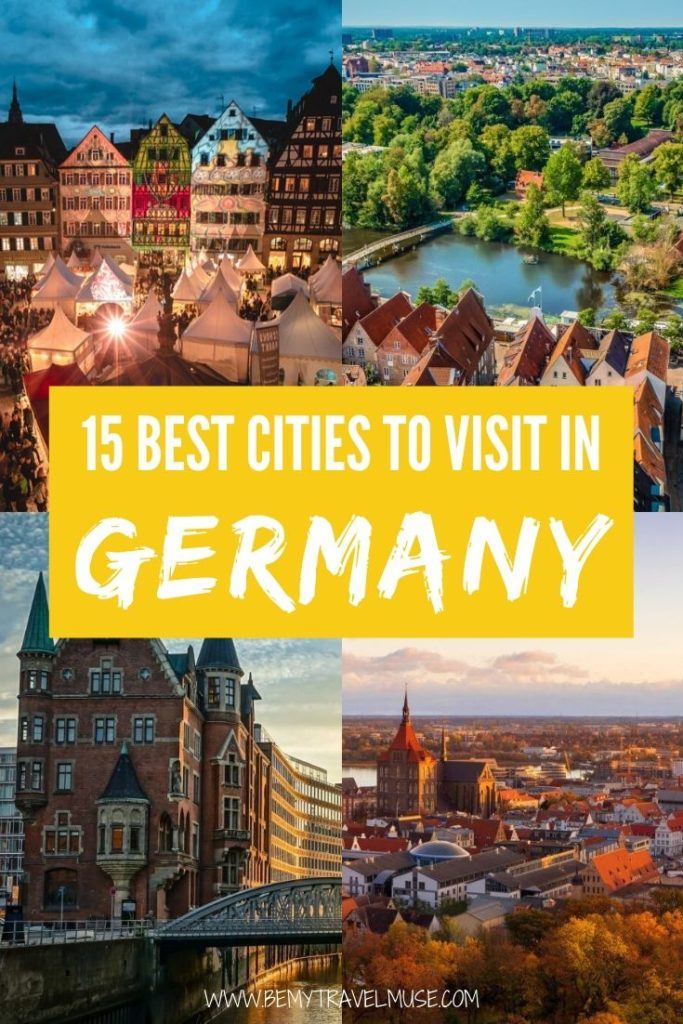 Credit: www.bemytravelmuse.com
Berlin: A City Of Diversity
Berlin has evolved into a diverse city that showcases a mix of cultures. The neighborhoods of kreuzberg and neukölln are great areas to experience these cultural influences. Don't miss the chance to visit the berlin wall, which stands as a reminder of the city's tumultuous history.
Other must-see landmarks include the iconic brandenburg gate and checkpoint charlie. The city's modern and vibrant nightlife scene is best experienced in the mitte district or the trendy friedrichshain-kreuzberg area. Berlin's evolution into the city it is today has made it an attractive destination for visitors seeking diversity and unique experiences.
Munich: The Capital Of Bavaria
Munich, the capital of bavaria, is steeped in history and imbued with germany's cultural identity. Explore the city's beautiful landmarks and attractions, such as the marienplatz, neuschwanstein castle, and the english garden. To experience munich's world-famous beer culture, visit the best breweries and beer halls.
Don't miss out on the delicious bavarian cuisine and traditional german dishes available at the city's best restaurants.
Hamburg: The Jewel Of Northern Germany
Hamburg is a crown jewel in northern germany, with a rich history as one of the world's most significant ports. Visitors will marvel at landmarks such as the st. michaelis church, the miniatur wunderland, and the remarkable elbphilharmonie. Travelers can also take advantage of hamburg's lively nightlife, complete with culinary delights that reflect the city's cosmopolitan vibe.
Finally, hamburg offers many cultural sites, including museums, operas, and theaters. A visit to this beautiful german city promises something for everyone, from history buffs to foodies and art lovers. So come discover the magic of hamburg, and see why it is one of germany's most enchanting cities.
Heidelberg: The City Of Romanticism
Heidelberg is a city in germany that influenced german romanticism. Its history is fascinating. Visitors can explore the heidelberg castle, philosophers' walk, and the old bridge. The traditional german architecture and setting are worth exploring. You'll find romantic and cultural places to experience while visiting heidelberg.
Dresden: The Baroque City
Dresden stands out for its baroque architecture, art and music. The frauenkirche, dresden castle and zwinger palace are landmarks that should not be missed. Explore dresden's magnificence through its museums like the green vault and the albertinum. Enjoy hiking trails and vineyards for an alternate experience.
Dresden's history and beauty offer something for everyone.
Cologne: The City Of Cathedrals
Cologne is known for its rich cultural history, being a religious hub and the rhine river. The city has plenty of beautiful landmarks and attractions to satisfy any traveler's thirst for knowledge and adventure. Among these sites is the breathtaking cologne cathedral which boasts of being one of the largest gothic structures in europe.
The roman-germanic museum is also worth a visit to learn more about cologne's ancient history. If you're interested in exploring cologne's artistic heritage, you can find plenty of museums and galleries as well as modern nightlife. Lastly, be sure to plan your visit around the various annual events such as the carnival of cultures or the christmas markets.
Cologne is a beautiful city rich in history and culture, waiting to be explored by curious adventurers.
Stuttgart: The City Of Cars And Technology
Stuttgart is a city in germany famous for its role in the automotive industry. The mercedes-benz and porsche museums showcase the region's engineering expertise. The stuttgart state museum of natural history is a must-visit for natural history enthusiasts. You can explore the city's technology scene through its festivals and events.
Don't miss the chance to savor the local delicacies like maultaschen, spätzle, and göckele.
Frankfurt: The City Of Exchanges
Frankfurt: the city of exchanges has a fascinating history, transitioning from a small trade center to a global financial cosmopolitan. This city is home to the goethe house, the frankfurt cathedral, and the römerberg square; all beautiful landmarks worth exploring.
Frankfurt's vibrant cultural scene includes numerous festivals and museums that showcase the city's art, history and music. Food lovers will appreciate the many diverse restaurants throughout the city and shopaholics will be delighted with the countless options of unique stores and markets to explore.
With so much to see and do, frankfurt stands out as one of the most beautiful cities in germany, buzzing with life and energy.
Nuremberg: The City Of Medieval Architecture
Nuremberg holds a key spot in germany's cultural history as a medieval city with impressive architecture. Visitors must see st. lorenz church, nuremberg castle, and the nazi party rally grounds. There are many ways to explore the city's history, so be prepared to learn.
Nuremberg offers a taste of local delicacies like franconian sausages, gingerbread, and beer.
Frequently Asked Questions On Beautiful Cities Germany
Which City In Germany Is Known For Its Beer?
Munich is known for its beer and oktoberfest, attracting millions of tourists every year. From traditional beer gardens to modern craft breweries, the city offers a variety of experiences for beer lovers.
What Is The Most Beautiful City In Germany?
Regensburg is one of the most beautiful and charming cities in germany. Its historic center, with its medieval architecture and cobbled stone streets, is a unesco world heritage site.
What Is The Best Time Of Year To Visit Germany?
Germany is a year-round destination, but the best time to visit is during the summer (june to august) when the weather is warm and there are many outdoor festivals and events.
What Food Is Germany Famous For?
Germany is famous for its sausages, such as bratwurst and currywurst, sauerkraut, pretzels, and schnitzel. Also, don't miss out on trying some traditional german beers.
Which City In Germany Is Known For Its Architecture?
Berlin is known for its diverse architecture, from modern buildings to historic landmarks and monuments. Visitors can explore landmarks such as the brandenburg gate, the reichstag building, and the berlin cathedral.
Conclusion
Germany is a country of natural beauty, fascinating culture, and picturesque cities. From the bustling streets of berlin to the enchanting ancient city of cologne, germany is a land of diverse and unique cities. The cities offer exciting experiences and vibrant nightlife, rich history and inspiring architecture.
What sets germany's cities apart from others is the blend of the old and new – they somehow manage to preserve the traditional while keeping up with the trends. No matter which city of germany you visit, you're sure to find unique experiences that will leave you with unforgettable memories.
Exploring these cities provides the opportunity to discover its history, tradition, and modernity. So, pick a city and start planning your trip to beautiful germany today! The hidden gem cities are waiting for you to be explored.